notes
Chia pudding is a delicious and healthy food that offers several key health benefits.

Chia pudding contains:

Rich in fiber, which helps regulate the bowels and control cholesterol.
Omega-3 fats, important for the brain, heart, and skin.
Supports weight control by helping to feel full.
It is an excellent vegetarian and vegan alternative, as it contains no plant products.
It has low levels of carbohydrates, making it suitable for people who want to control their sugar and carbohydrate intake.

This is an excellent choice for a healthy and tasty diet.
ingredients
1/2 cup chia seeds
2 cups of milk (or almond milk),
1 spoon of honey or (maple syrup - maple syrup),
Fresh fruit, cereal, or dried fruit for decoration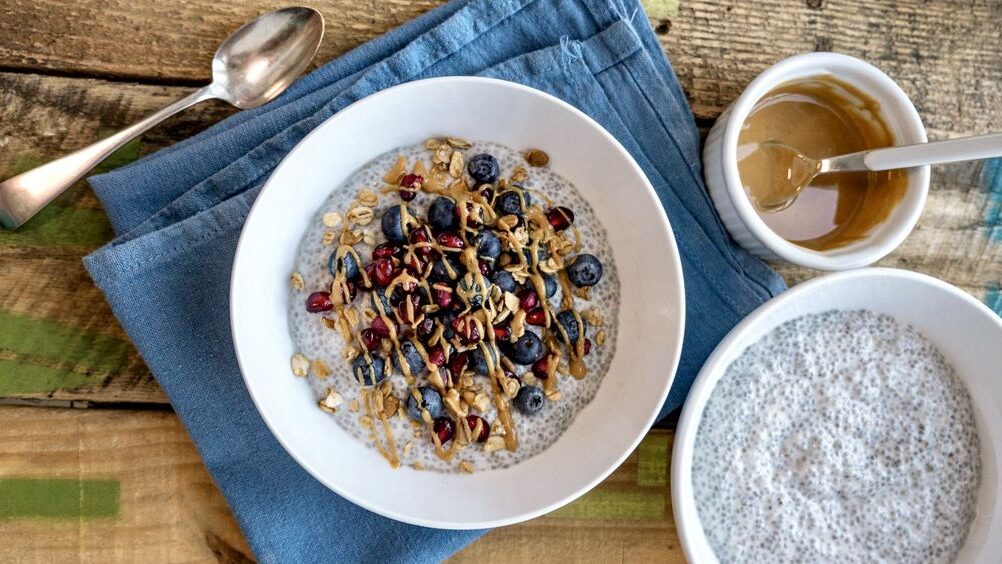 directions
1. Prepare the Chia pudding:

Place the chia seeds in a small bowl.
Add the milk to the bowl with the chia seeds.
Leave covered in the refrigerator for at least half an hour.

2. Decoration and Serving:
When the chia pudding is ready, garnish with fresh fruit, honey, or toppings of your choice.
© 2023 Green&Protein. All rights reserved.