notes
This salad is rich with the taste and richness of fresh vegetables, and the dressing is simple and delicious. Fresh vegetables are an important part of a healthy lifestyle and nutrient-dense diet.
Fresh vegetables are rich sources of vitamins and minerals necessary for the body. They include vitamin C, vitamin A, vitamin K, potassium, iron, and many others. They are rich in antioxidants that fight cell damage from free radicals and help protect the body from chronic diseases.
Despite their rich nutritional value, fresh vegetables are usually low in calories, making them an excellent choice for people taking care of their weight.
For these reasons, the consumption of fresh vegetables is essential for a healthy diet and a balanced lifestyle. To improve your health and help your body function optimally, add more fresh vegetables to your diet.
ingredients
Half an avocado
2 pieces of radishes cut into circles
50 grams of chickpeas marinated with red pepper
15-20 grams of grated red cabbage
Half a grated carrot
Half a cucumber cut into thin circles
Half red pepper cut into small cubes
Fresh spinach
15 grams of almonds
Parsley
A cup of olive oil
Half a Lemon
A Little Salt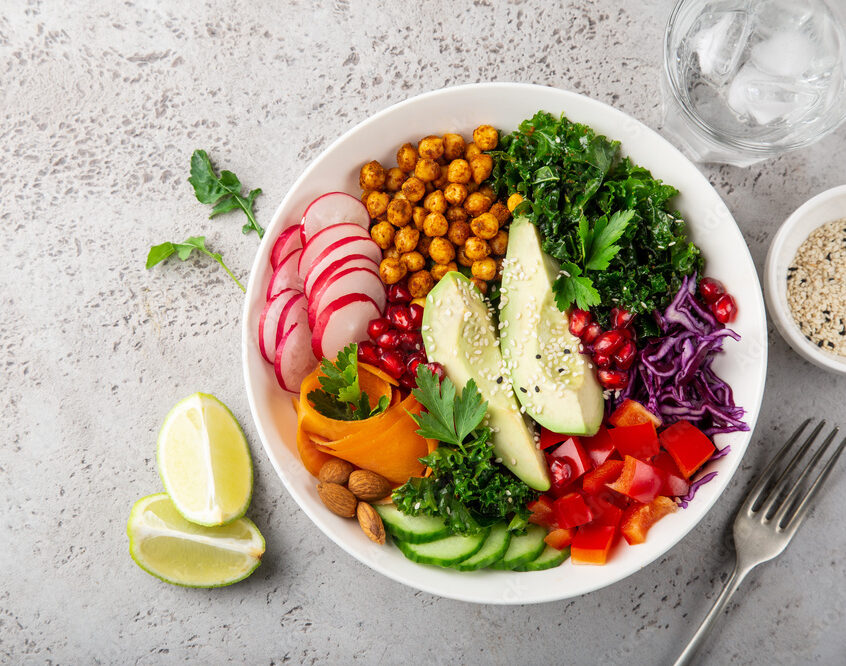 directions
Wash the vegetables well, then cut and prepare according to the following instructions:
Cut half of the avocado into 2 equal halves,
Cut the radishes into thin circles,
Marinate the chickpeas with sweet red pepper,
Cut the red cabbage into thin pieces,
Cut the carrot into thin slices,
Cut the cucumber into thin rings,
Cut half of the red pepper into small cubes,
Wash fresh spinach well and cut into small pieces,
Add the almonds,
Add the pomegranate pieces,
Remove parsley leaves from the roots and cut into small pieces.

Prepare the Dressing: In a small bowl, mix the olive oil, the juice of half a lemon, and a pinch of salt. Mix well until you get a uniform dressing.

In a large serving bowl, combine all the vegetables. Add the dressing over the salad and mix well.

Serve the salad on individual plates and garnish with a few sesame seeds for added texture and flavor.
© 2023 Green&Protein. All rights reserved.